Delivery Head
max. 220 m L.C.
Temperature Range
-120 °C to +450 °C
Pressure Rating
max. PN 400
Design according DIN EN ISO 2858 / DIN EN ISO 15783

Maintenance-Free Permanent Magnet Drive


Modular Design

No Dynamic Seal, Separation of Liquid Chamber and Atmosphere by Means of Containment Shell

Bearing Bracket with Greased-for-Life Anti-Friction Bearings as a standard . . .









Single-Stage Centrifugal Pump in Process Design
Synchronous Permanent Magnet Drive
Easy to Maintain
Seperation of Liquid Chamber and Atmosphere by Means of Isolation Shell
Bearing Bracket with Oil-Lubricated or Greased-for-Life Anti-Friction

Bearings; Optional: Close-Coupled Design

Product-Lubricated Journal Bearings; Made of Silicon Carbide (SSiC);

Customized Materials (e.g. Carbon, WOC etc.) on demand
 

| | | |
| --- | --- | --- |
| Flow Rate | Q | 3.500 m³/h |
| Delivery Head | H | max. 220 m L.C. |
| Temperature Range | t | -120 °C to +400 °C |
| Pressure Rating | p | max. PN 400 |
Acids
Lyes
Hydrocarbons
Heat Transfer Liquids
Coolants
Liquid Gases
Aggressive, Explosive and Toxic Liquids
Liquids Containing Solids
High-Viscosity Liquids
Pump Casing: 1.4408 or 1.0619
Impeller: 1.4408
Containment Shell: 1.4571/2.4610
Magnet Carrier: 1.4571
Internal Bearings: Silicon Carbide
Bearing Lantern: 1.0619
Bearing Carrier: 0.7043
Further Materials upon Request
Temperature Range
-120 °C to +400 °C
Pressure Rating
max. PN 400

No Alignment between Pump and Motor
No Coupling and Coupling Guard
No Ball Bearings

Pump does not require scheduled Maintenance

No Oil Lubrication necessary

Lower noise level

High Stiffness of the Pump Shaft because of small overhung compared to Pumps with Shaft Seals
Use of standard high efficient IEC and NEMA Motors contrary to canned Motors

Better availability with standard Motors

Maintenance of Motors is standardized and can be done by the customer on site

Base Plates for Close-Coupled Design do not need to be rigid acc. to API 685 – 7.3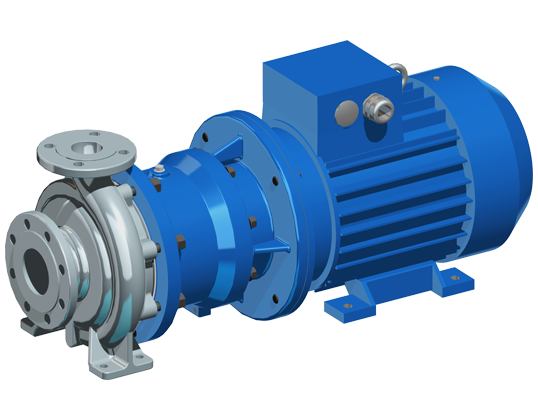 Blockbauweise
Prozessbauweise
Magnetkupplung
Leckagefrei
Horizontale Aufstellung
Modulares Baukastensystem
 

| | | |
| --- | --- | --- |
| Flow Rate | Q= | 3.500 m³/h |
| Delivery Head | H= | max. 220 m |
| Temperature Range | t= | -120 °C to +450 °C |
| Pressure Rating | p= | max. PN 400 |
Acids
Lyes
Hydrocarbons
Heat Transfer Liquids
Coolants
Liquid Gases
Aggressive, Explosive and Toxic Liquids
Liquids Containing Solids
High-Viscosity Liquids
Spiralgehäuse: 1.4408 oder 1.0619
Laufrad: 1.4408
Spalttopf: 1.4571/2.4610
Magnetträger: 1.4571
Gleitlagerung: Siliciumcarbid
Zwischenlaterne: 1.0619
Sonstige Werkstoffkombinationen auf Anfrage
Temperature Range
-50 °C to +300 °C
Pressure Rating
max. PN 400
Pressure Rating up to PN 400

Design according DIN EN ISO 2858 / DIN EN ISO 15783

Maintenance-Free Permanent Magnet Drive


Modular Design

No Dynamic Seal, Separation of Liquid Chamber and Atmosphere by Means of Containment Shell

Bearing Bracket with Greased-for-Life Anti-Friction Bearings as a standard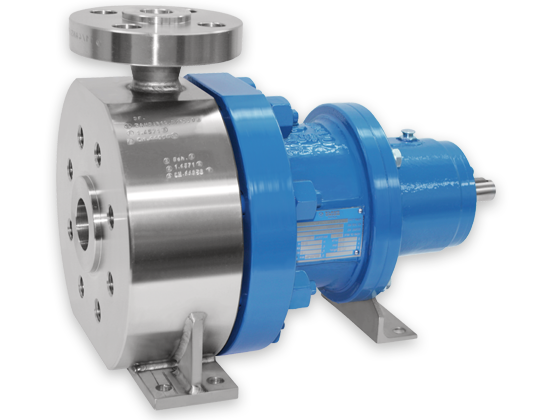 Process Design
Synchronous Permanent Magnet Drive

Easy to Maintain
Seperation of Liquid Chamber and Atmosphere by Means of Isolation Shell

Bearing Bracket with Oil-Lubricated or Greased-for-Life Anti-Friction Bearings; Optional: Close-Coupled Design
Product-Lubricated Journal Bearings; Made of Silicon Carbide (SSiC); Customized Materials (e.g. Carbon, WOC etc.) on demand
 

| | | |
| --- | --- | --- |
| Flow Rate | Q | 3.500 m³/h |
| Delivery Head | H | max. 220 m |
| Temperature Range | t | -120 °C to +450 °C |
| Pressure Rating | p | max. PN 400 |
Acids
Lyes
Hydrocarbons
Heat Transfer Liquids
Coolants
Liquid Gases
Aggressive, Explosive and Toxic Liquids
Liquids Containing Solids
High-Viscosity Liquids
Pump Casing: 1.4571
Impeller: 1.4408
Containing Shell: Titanium
Magnet Carrier: 1.4571
Internal Bearings: Silicon Carbide
Bearing Lantern: 1.0619
Bearing Carrier: 0.7043
Further Materials upon Request
NACHSETZZEICHEN (AUSFÜHRUNGEN):
| | |
| --- | --- |
| H1 | beheiztes Pumpengehäuse |
| H2 | beheizte Zwischenlaterne |
| S | Wärmesperre ohne Sekundärabdichtung |
| W | Wärmesperre mit Sekundärabdichtung |
| F | Innenfilter |
| Z, C | Spalttopf aus Zirkonoxid (Z); Spalttopf kunststoffausgekleidet CFK (C) |
| | |
| --- | --- |
| E1 | externe Einspeisung, interne Teilstrombohrungen verschlossen |
| E2 | externe Spülung / Entlüftung, interne Teilstrombohrungen offen |
| E1F | externer Teilstrom mit Hauptstromfilter nach DGRL |
| OT | Pumpe ohne Teilstrom, siehe Beschreibung SLM NV OT |
| Doppelschaliger Spalttopf | Doppelschaliger Spalttopf |
| J | Inducer |
| L | Sekundärabdichtung zwischen den Wälzlagern |