Differential Pressure
max. 100 bar
Temperature Range
-120 °C to +350 °C
Viscosity
max. 100.000 mPas

Design according to API 676, 3rd Edition

Maintenance-friendly "PLUG & PUMP" Cartridge Design

Dry-Run-Capable with double-acting Seals


Suitable for nearly every Liquids, incl. Multiphase Fluids and Polymers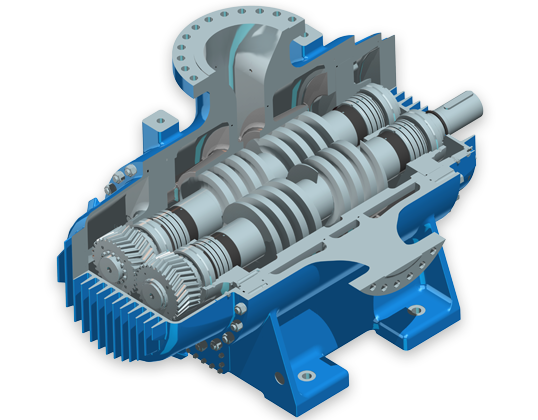 Wide Application Range
Variable Rotor Designs
'Plug & Pump'-Cartridge Design
Torque Transmission between the Drive Screw and the Idler Screw by Herringbone Gears
Rotors made from Single Piece Bar Stock
High Efficiency Execution
Low-Pulsation Design
Low-NPSHR Design
Clearances Designed to be contact free over the Complete Permissible

Operating Range

Seal Options with Corresponding Flushing Plans Available
 

| | |
| --- | --- |
| Performance Range | |
| Flow Rate | Q= max. 5.000 m³/h (22.000 GPM) |
| Differential Pressure | P= max. 100 bar |
| Viscosity | max. 100.000 mm²/s (cSt) |
| Temperature Range | max. +350 °C |
Higher Flow Rates upon Request
Viscous Liquids Containing Considerable Amount of Solids
Lube, Crude or Fuel Oils
Bitumen
Tar
Asphalt
Fats
Resins
Residues
Multiphase Products Containing Liquids, Gas and Solids
 

| | |
| --- | --- |
| Pump casing | 1.0619 / 1.4408 / 1.4470 / 1.4469 |
| Casing cover | 1.0425 / 1.4571 / 1.4462 / 1.4501 |
| Screws | 1.7227 / 1.4542 / 1.4571 / 1.4462 / 1.4501 |
| Shaft seal | Depending on the operating conditions |
Upon Request, Klaus Union Twin Screw Pumps, Series DSP, can be offered in Special Construction Materials matching the Particular Application.
The pumps are outfitted with a foot heating (H4). This can be realized either separately or in conjunction with a bypass line. The heating system is rated for operating pressure of 16 bar at 200 °C (steam) or 6 bar at 350 °C in the standard construction. It can also be used for cooling.
The thermal barrier (W) reduces ball bearing temperatures in the gearing when hot liquids are being transported.